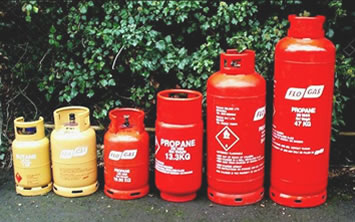 家庭长期储备主要是为了应对社会和自然灾害。水、食物储备往往要与燃料一起来考虑。这里转一篇J. Martin的文章,供参考
天然气:需要气罐,储存不太安全。一般15kg的液化气罐一次加注大约120元, 一个家庭做饭用可以用5个月(150天)
Most of us have probably taken on natural gas as the fuel of choice for everyday living, and it is what so many homes use as a primary source for heating homes and water, or powering a clothes dryer or oven. But is it the right fuel to consider a realistic part of your survival plan? After all, it's not like you can just run to the store and buy a canister of natural gas and hook it up to your house if you're forced to turn off the gas or it gets knocked out due to a disaster.

So what kind of fuel is best to keep alongside with your survival gear and long term food storage? Here is a little information on some of the most popular alternative fuel options:

煤,木炭:可靠,长期储存,便宜 . 使用不便, 比较占空间.
Charcoal – In its pure carbon form charcoal has long been a favored alternative for producing heat and as a reliable method for cooking. When stored properly charcoal is perhaps the ideal method for emergency heating and cooking as it can be stored for an indefinite amount of time if it is kept in a sealed bag or container and is kept dry. It's also relatively inexpensive when compared to the cost of alternatives.
丙烷:最常见的户外燃料. 价格在10元/200g左右.
Propane – Alongside Butane, Propane is another of the most common gases used in North America. It's distributed in smaller canisters as a source for fuel on the go, but can also be stored in large tanks in severe weather conditions because of its higher pressure point. This is why propane is typically the fuel choice for outdoor tanks at homes and cabins that don't have access to a natural gas line.

丁烷:常见的打火机气体,比天然气贵, 比丙烷便宜,效率略高。但只有小罐卖。5元/220g, 以家庭为单位大约可以用3天左右.
Butane – This versatile fuel powers most lighters you can pick up at the store and can even be purchased in small cans to refill your Zippo. On a slightly larger scale, Butane has become a go to for outdoor enthusiasts who use the fuel because it burns slightly more efficient than propane. Butane is a little less expensive than propane, but is typically only sold to consumers in small canisters that might not be the best choice for survival kits alongside of long term food storage needs.
白汽油:户外燃料, 比丁烷气便宜。家庭储存仍需小心。10元/L. 酒精和煤油也可以归入这一类, 价格也比较近似. 煤油还可以拿来做油灯的燃料.
White Gas/Liquid Gas – A favorite of high alpine adventurers, white gas burns effectively at high altitudes, but also is a great backup in any severely cold environment as it burns extremely hot even at below freezing temperatures. Unlike its alternative fuel counterparts white gas is not distributed in pressurized canisters, making it more susceptible to expansion and leakage in varied temperatures. While it does burn pure and hot, extra care should be given when using any liquid gas.

木材:简单,安全,可靠。拿来做饭烟熏火燎。
Wood – This might seem like a no-brainer, but many people who have fireplaces in their homes don't build a stockpile of wood for the winter months. While not the cleanest method for cooking in terms of output, having a fire is probably the most efficient way to keep a house warm when access to gas or liquid fuel is scarce.

关于Jared Matkin

Jared Matkin is a Salt Lake City based freelance writer and outdoor enthusiast who is continually on the lookout for innovative and usable products designed to help improve the way we live.