BOB就是逃命用的保险包,《谍影重重》的伯恩在苏黎世银行中所存的红色背包就是这个东西,其实关键在于包里预先准备好的各类备灾物品。
下文中分析了为何要准备bugout bag,如何准备等细节。
The End is Near! Do You Have a Bug out Bag?

by Ethan Demme on December 13, 2009
Last week my pastor delivered a message entitled "It's the end of the world as we know it" the point of the message was that everyone is worrying about the end of the world, all the horrible things that are going to happen but not to worry and don't get sucked up in all the hype.
After the service I immediately started discussing with my friends exactly what we would do in an end of the world scenario/zombie apocalypse. Where we should go, which people had skills for such a time, which guns were best, food and water storage, how to set a trip mine, etc.
Not exactly what the pastor had in mind for us to discuss but fun nevertheless. After all one of the biggest letdowns of my life was Jan 1st 2000 when nothing happened. I was prepare, my family was prepare, our entire church was prepared (different church). We had stockpiled food, water, purchased generators, hand pumps for wells, seeds etc. So anyway Jan 1st to say the least was a big letdown.
Survival has always been a hobby of mine. I read all the survival books I could find. I can survive indefinitely in the woods (or at least I think I can). I've learned diverse skills that could come in handy, bow staff skills anyone?
The other day I turned on the radio and listened to Mr. Glen Beck (not something I usually do). During the commercials and the program (same thing?) I was kept hearing all the same stuff I heard back in 1998-99. Stockpile food and water, buy gold, band together with other crazy like minded people. It felt like deja vu all over again.
I also recently watched Zombieland, which was hilarious by the way. And was again reminded of the necessity of being prepared for anything.
All that being said I decided to assemble a bug out bag as I figured I had 90% of the supplies just lying around my office.
What is a bug out bag?
A bug out bag is a bag you've filled with items you'll need to survive if you have to leave in a hurry.
Why do you need on
e?
Y2K
2012 (the Myans can't be wrong)
Y3k
Alien invasion
Zombie Apocalypse
Seriously vaccines could make everyone into Zombies
Collapse of our country because Obama is destroying it
FEMA could throw us all into containment camps
Bird Flu pandemic
West Nile Virus
Swin Flu pandemic
Hackers could destroy banks
Three Mile Island could blow up at any minute
You could get framed for murder and have to lay low for a while
The tribulation (read Revelation it's almost here!)
Terrorist attack
Russia could attack
China could also attack
Canada might give the US a dirty look
Ron Paul could be elected and actually get rid of the Federal Reserve then we're really up a creek
Ron Paul could be right about everything (see the first several points)
Someone could set off an EMP (Think Oceans 11)
Solar Flares could wipe out the national power grid
The hadron collider could create black holes and suck up Europe
A meteor could collide with the earth
Global Warming (stock up on sunscreen)
Global Cooling (stock up on cold weather gear)
You're wife could kick you out of the house because you're obsessed with survival stuff
Or because it's a hobby… and ya never know?!?
________ (enter your idea here)
What's in my bug out bag you ask?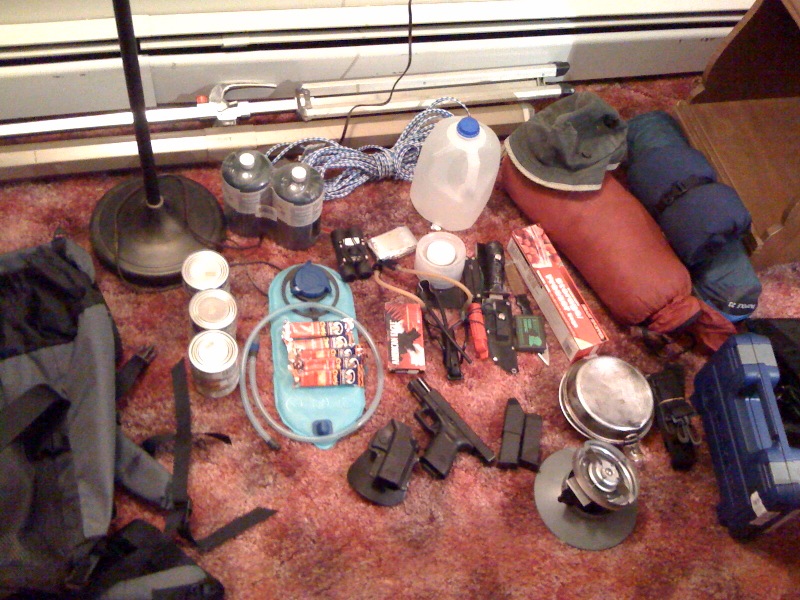 Bug out Bag


Water
1 Gallon Distilled water (5 year shelf life)
Water Bladder
Water purification tablets
Food
Tuna Fish in cans
Turkey in cans
Granola Bars
Camp stove
2 cans of fuel
lightweight cooking kit with utensils
Matches
Shelter
Emergency Blanket
2 Man tent
Sleeping bag
Hat
Protection
Whistle
Knife (sheath)
Knife (folding)
Knife (throwing)
Pistol (Glock 23 .40 cal, holster and extra clip)
100 Rounds of Ammunition
Shotgun (12 gauge mossberg)
15 Rounds of 00 Buckshot and 25 of birdshot
Slingshot (with replacement band)
Misc
Compass
Whetstone
Fishing line and hooks
Binoculars
Ziplock bags
Duct tape
Camouflage grease paint
Rope
Webbing


It's a work in progress but this was all stuff I had lying around the house. Now it's all in one bag (Coleman internal frame backback) and ready to go if I ever need it.

So that is my bug out bag, I don't foresee ever using it (except to go camping) it is nice to be prepared. After all… ya never know.

Comments time, what am I missing from the bug out bag. Do you have one? Do you have a TEOTWAKI (the end of the world as we know it) plan? Also if you can shoot, have stockpiled food, water and ammo you are welcome to come stay at my house during the end of the world. I just need to get a generator for the xbox and we'll be all set.